ladyminya posting in

kilmerfans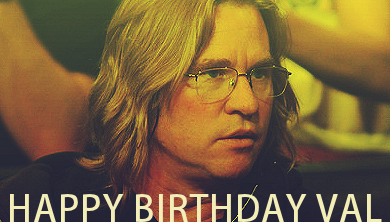 In light of Val's birthday, I thought I would share a little something with you all. I own a book called
The Secret Language of Birthdays
by Gary Goldschnedier and Joost Elffers. The book contains "profiles" for each date of the year with a little insight into the personality types of people born on particular days. I think what they did was interview a whole bunch of people and then collate the data into a personality profile for each day of the year (if that makes any sense). Either way, I've read mine and it is spookily accurate!
So, yeah. I thought I would share the profile for December 31st in honour of Val's birthday. However, I'm not going to type the whole thing out because that would take me forever. I thought I might share some of the highlights. :) Just be aware that this is all in fun. There's no way to know if this information is accurate or not, so please don't take it too seriously. :)
Without further ado~
December Thirty-First
The Day of Aesthetic Promotion.
Sign:
8-11º Capricorn (Stage I)
Element:
Cardinal Earth
Those born on December 31st often work to promote beauty or harmony in one form or another.

Many December 31 people display what amounts to a worship of literature, art and music.

December 31 people have an unerring sense of the needs of their society and perhaps a good idea of how to satisfy them.

December 31 people are usually well-groomed, well-dressed and put their best foot forward in social or business situations.

They understand that first impressions count and that one doesn't always get a second chance.

Harmony, stability and beauty are the principal ideals which December 31 people strive for in their personal and family lives.

They know very well what they can and what they cannot do. Because they rarely take on a job they are incapable of finishing, they often succeed in their endeavours.

Usually big displays of emotion work against December 31 people, and most born on this day are aware of this.

Strengths: Appreciative, Tasteful, Idealistic.
Weaknesses: All-Knowing, Opinionated, Fixed.

The signs of December 31st are the praying mantis and the lyre.

The following is not listed in the book, it's just something I looked into online because I was curious as to what, exactly, the praying mantis and the lyre symbolize.

Praying Mantis: The Praying Mantis is the oldest symbol of God and symbolizes stillness, awareness, creativity, patience, mindfulness, calm, balance, and intuition.
Lyre: is a musical stringed instrument well known for its role in classical antiquity as a symbol of wisdom and moderation, a gift attributed to Apollo, and an instrument to accompany public recitation or song.

And there you have it! :)